The House of Lords commissioners for standards are considering a complaint against the Conservative peer Michelle Mone, relating to the PPE business awarded £203m government contracts after she referred it to the Cabinet Office in May 2020.
The Labour peer George Foulkes complained to the commissioners on 6 January after the Guardian reported that leaked files appear to suggest Mone and her husband, the Isle of Man-based financier Douglas Barrowman, were secretly involved in the company, PPE Medpro.
After the company was awarded contracts in May and June 2020, Mone and Barrowman have consistently denied any "role or function" in PPE Medpro. Lawyers for Mone, who ran the lingerie company Ultimo before David Cameron made her a peer in 2015, have said she "was not connected to PPE Medpro in any capacity".
Read the full story here.
Taiwan has tightened its entry requirements for new arrivals in the latest move to head off a large-scale Omicron outbreak.
Beginning today, passengers on long-haul flights from the Americas, Europe, the Middle East, Australia and New Zealand will be given a rapid PCR test at the airport immediately upon arrival.
Those who test positive will be taken directly to hospital with their luggage. Those who test negative will be allowed to continue through the arrival process, which includes a non-rapid PCR test at the airport (with results sent later), being sprayed with disinfectant, and put in designated transport to a quarantine hotel or facility.
Health and welfare minister Chen Shih-chung said:
We hope to move the 'line of defense' to the front line to reduce the risk of infection during the entry process.

As the incubation period of the Omicron variant [of SARS-CoV-2] is much shorter, we believe a large proportion of infected travellers will be detected at the airport under the new policy."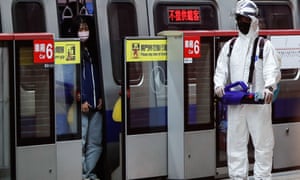 Taiwan's entry requirements are already extraordinarily strict. No non-residents/citizens are allowed in without prior exemption, and everyone must have a negative PCR test taken no more than 48 hours before their flight. On arrival passengers are tested and ordered into a quarantine hotel or government facility for 14 days (or currently, temporarily, for seven, if they have an eligible home they can complete the second seven days in). They then have another seven days of self-health management avoiding crowds and restaurants. Across the three weeks they must have three PCR tests and three rapid tests.
Taiwan has been one of the world's most successful preventers of large-scale outbreaks and recently went more than a month without a single locally transmitted case. However with Omicron spreading around the world, and higher numbers of arrivals due to the Lunar New Year festival at the end of the month, there has been a rise in imported cases and a domestic cluster of at least 31 people linked to the international airport.
Six new local cases were reported on Monday.
Mask rules have been tightened again, with exceptions removed for exercise, giving speeches, taking photos and other specific circumstances. People can still take their mask off in some scenarios, including eating or drinking at venues, in forest recreation areas, and in spas and saunas.