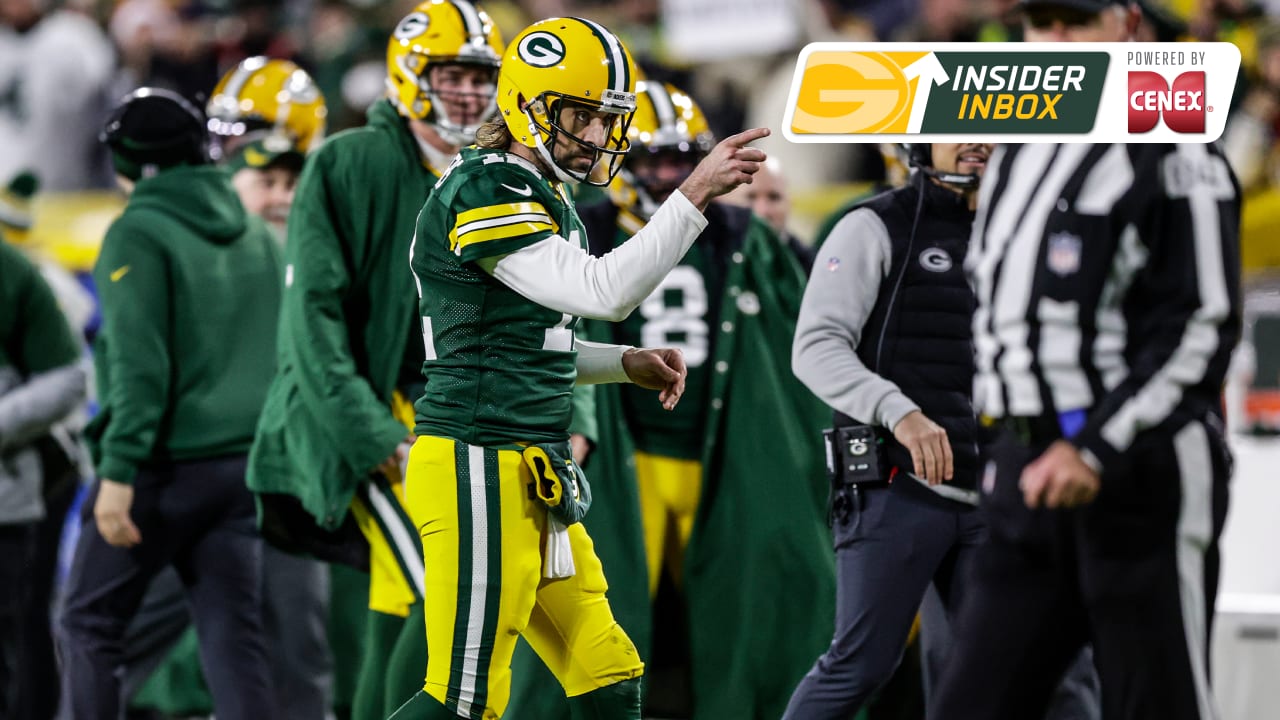 Morning Wes. I was just listening to Bob Papa who was of the opinion Mike Vrabel is hands down coach of the year. His argument was Vrabel lost Derrick Henry and ML has AR. Does having a great player diminish your opportunity for coach of the year? Thanks.
It sure seems like it. Henry is arguably the best running back of his generation but the Packers also have been inundated by injury. We'll see what the voters have to say about it but my vote would still be for LaFleur, especially considering he's yet to receive the award.
Mike from Franksville, WI
When telling the story of the '90s Packers, would you end it with Mike Holmgren leaving or Ron Wolf retiring?
I would lean towards Holmgren's departure signaling the end of the '90s Packers and Wolf's final year in 2001 as the beginning of everything that happened over the next decade.
Brandon from Kronenwetter, WI
No cheering in the press box? Please don't tell that to Larry McCarren. I love it when he gets fired up when the Pack makes a huge play! It doesn't get much better than hearing Larry screaming "YES!!!" on the radio broadcast!
Technically not the press box. That's the radio booth.
Arthur from Eau Claire, WI
Heard someone say that Coach LaFleur's three-year winning record isn't as big a deal as Coach Seifert's because of Aaron Rodgers. Maybe I'm wrong but didn't the 49ers have Hall of Famer Steve Young at quarterback? Apples and oranges to me.
That sounds to me like arguing for the sake of arguing, and in my humble opinion, that isn't argumentation. It's idiocracy.
David from Minneapolis, MN
There's no cheering in the press box. What about in the Inbox?
Although engrained is the less common spelling, I think I like it better. Ingrained seems closer to an ingrown migraine.
Two roads diverged in a yellow wood, and I – like Spoff – I took the one that was engrained.
Dave from Long Island City, NY
Come on Wes! The quest for 14 in Dean's poetry hasn't been for 14 victories in the 2021 season…it's for our beloved Packers 14th NFL championship!
Ohhhhhhhhhhhhhhhh…….well, isn't that embarrassing.
My opinion is that football should have 18 games and two preseason games with most starters not playing much. Most teams have empty stadiums in preseason with low TV ratings. From 1970-77 the NFL played six preseason games, with starters playing in most of them, and 14 regular-season games. The even number 18 games make more sense, and football players should then make more money for their additional effort.
Or here's an even crazier idea – how about just leave it at 16 regular-season games with 32 NFL teams? With that being said, please read the following statement below as it relates to the Insider Inbox comment section. See you Friday.
Packers.com will be shutting down the website's comments section permanently, effective Sunday, Jan. 9. We make this decision regrettably, as our efforts to police the abusers of the comment policy have not effectively improved the ongoing problems, and we do not have the resources to monitor the section's activity on a constant basis. We are providing a couple days' notice to allow users to connect with one another if they wish. It's unfortunate that a very small percentage of abusers has forced us to eliminate the platform for the larger audience that has used it appropriately and followed the policy. This decision is final and will not be revisited.