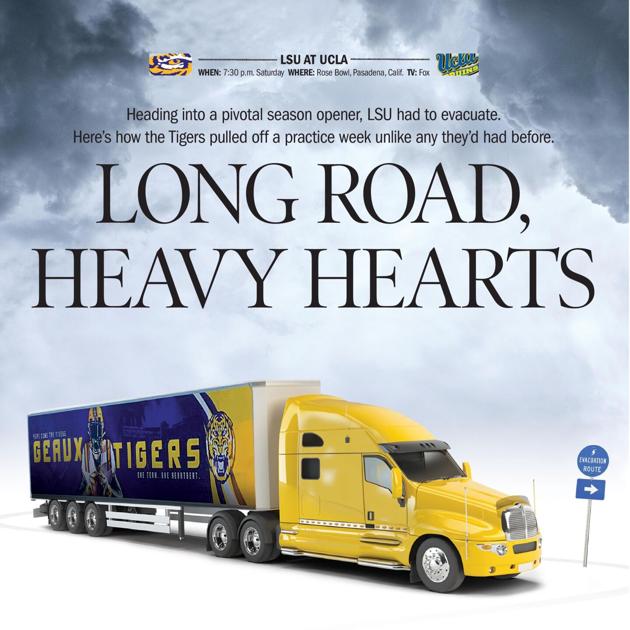 We did it. We made it. We're here.
The long summer has ended, and here at home, we've got a lot of work to do. But for now, for today, we've got college football. We've got LSU and UCLA, along with a full schedule of college football on a Saturday afternoon.
Ed Orgeron begins what figures to be a pivotal year for his program, having followed the best-of-all-time 2019 season with a 5-5 clunker, marred by sloppy defense, injuries and COVID-19 complications. He needs a bounceback, and he'll try to get off to a good start in a place he knows well: Southern California.
But the game, of course, was only part of the story this week.
COVER STORY:
Heading into a pivotal season opener, LSU had to evacuate. Here's how the Tigers pulled off a practice week unlike any they'd had before. By Wilson Alexander.
SCOTT RABALAIS:
Despite a hellish week — a hellish 18 months, really — more than a few LSU fans were determined to make this trip to Los Angeles for LSU-UCLA.
PREDICTIONS:
Wilson Alexander, Scott Rabalais, Sheldon Mickles and Zach Ewing are back to make their picks for the LSU-UCLA game. Take a look.
INSIDE THE BETTING LINE:
See how the betting line changed from the beginning of the week (LSU -4½) to the end of the week (LSU -2½), and why we think it changed.
SEC RANKINGS, FROM No. 1 TO No. 14:
Our own Sheldon Mickles is back to give a team-by-team breakdown of the SEC, including their opponent this week, betting line and more.
FOUR DOWNS:
How does LSU beat UCLA? Keys include stopping the run, Max Johnson and more. Our Wilson Alexander breaks it all down here.
A LOOK AT UCLA's TOP THREE PLAYERS:
Sheldon Mickles tells you why you should keep an eye on quarterback Dorian Thompson-Robinson, wide receiver/kick returner Kyle Philips and safety Qwauntrezz Knight.
BEST TV GAMES OF THE WEEK:
You don't need an excuse to watch football all day, but Sheldon is back with a handy rundown of the best games you can find on your big screen (if you've been blessed with electricity).
To our paying subscribers:
Stick with our team, and thank you for supporting our sportswriters' work. If you're not already, please consider becoming a digital subscriber and continue to support our journalism. Hell, subscribe because of our journalists who have done extraordinary local reporting, during and after Hurricane Ida.
Click here for a special offer from us. As a paying subscriber, you'll enjoy full access to our award-winning coverage, faster-loading web pages with fewer ads and much more.
Happy Saturday.