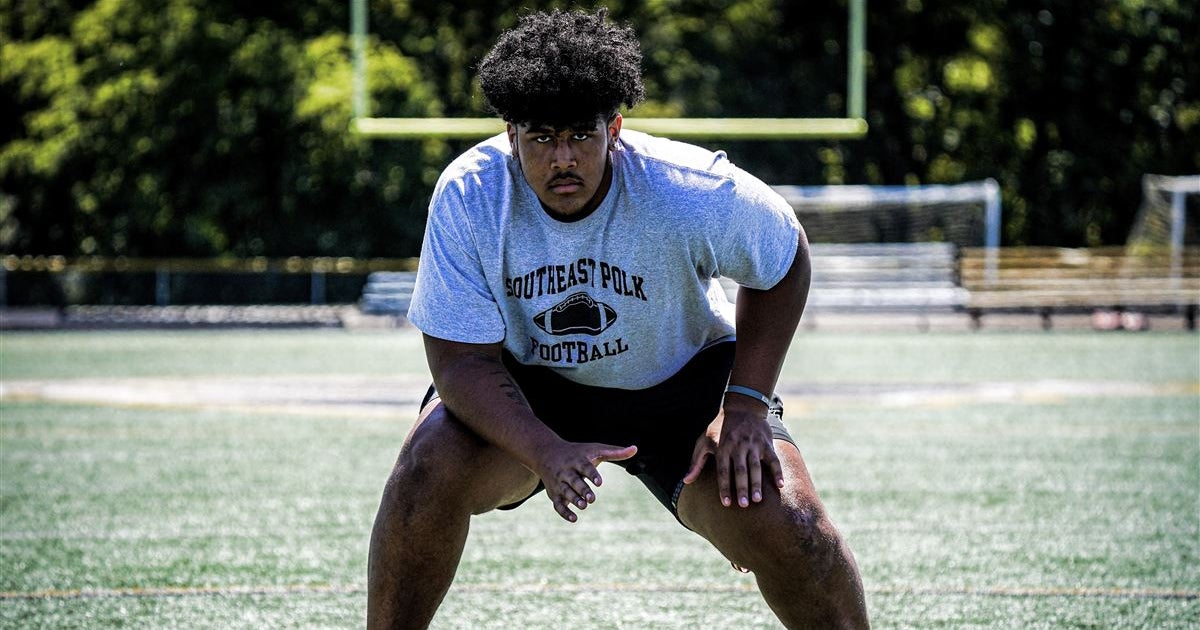 In one of the more anticipated week one college football games of the season, No. 18 Iowa made quick work of No. 17 Indiana, dominating the Hoosiers 34-6 on Saturday afternoon.
Making it even sweeter for Kirk Ferentz and his Hawkeyes program was the fact they dominated in front of a talented group of prospects as well.
"(They) played a great game for us," the No. 1 prospect in the state in five-star 2023 offensive tackle Kadyn Proctor said. "First time in Kinnick was wild and a fun ride."
Two first half interceptions returned for scores by Riley Moss put the visitors away early in this one. Tyler Goodson led the offense with 99 yards rushing including a 56-yard touchdown run on the first series to ignite the crowd.
"Highlights were watching the o-line and Goodson doing the hurdle," Proctor said.
Out of Des Moines (Iowa) Southeast Polk, Proctor is ranked by the 247Sports Composite as the nation's No. 1 tackle as well. The Top247 tabs his 2022 teammate in safety Xavier Nwankpa as the No. 1 safety in the land. Both looked to have a great time.
"Today was amazing!" Amy Erickson, Nwankpa's mother stated. "Glad to be back to a full stadium and the energy was electric! My sister and two nephews got to join us today. They have never experienced a D-1 football game before. The boys got to meet some of the coaches and they got to see what it's like to be on the playing field. The best part was they got to be apart of the (Iowa wave).
"Xavier got to here some chanting from the fans that clearly want him to go there! 'We want X!' He took some pictures with some little fans too. It was just good to be at a collegiate football game and get the game day experience."
Beyond Nwankpa and Proctor, Ferentz and his staff welcomed in several other recruits they've already offered or are keeping close tabs on.
"It was super cool to see the stadium filled with fans," Waverly (Iowa) Shell Rock 2023 athlete Asa Newsom said. Iowa, Kansas State, Missouri and Nebraska have extended an early scholarship. "I really enjoyed my visit and thought the energy in the stadium was dope."
"As we first pulled up to the campus everyone was out tailgating and having fun, the energy was in the air," La Grange (Ill.) Lyons Township 2024 defensive lineman Eddie Tuerk said. Iowa is one of his early offers alongside Michigan, Ole Miss, Tennessee and Cincinnati. "After we had lunch and toured the facilities we got on the field and I talked to Coach (Seth) Wallace, Coach (George) Barnett and Coach (Kelvin) Bell and they were all pumped up. When the guys came out they all had so much energy, you could just tell they were more ready to play than Indiana. We sat right in the middle of the student section and the atmosphere was insane, it was almost too loud to hear the band playing only a couple sections down from us. I got chills just hearing the crowd and could only imagine how it would be to play on that field."
"It was great in Iowa City, way different than what it was my first time out here," Glen Ellyn (Ill.) Glenbard South 2024 receiver Cam Williams said. The Hawkeyes were his first Big Ten offer. "A lot of people here. Iowa fans are probably the most passionate die-hard fans I've seen which was probably the biggest highlight that stood out to me."
Iowa has won seven games in a row obviously dating back to last year.
"Iowa City was fantastic," Brownsburg (Ind.) High defensive lineman Leighton Jones said. "I could tell the atmosphere was going to be amazing when I saw the tailgating and everyone walking downtown to tailgate. The atmosphere was electric every turnover that the Hawkeyes capitalized on, also the roar in the stands when the offense had broken a big play or the returner had made a few good moves to spring good field position. Some of the other things I really liked was how much pride everyone in the stadium had to be a Hawkeye and all the fans definitely opened their arms to the recruits and I felt the love. It was a great day to be a Hawkeye fan!"
"I had a great time in Iowa City today," Cedar Rapids (Iowa) George Washington safety Watts McBride said. "The facilities and stadium were super cool and the program is very impressive. You could tell everyone was happy to be back in the stadium at full capacity. The stadium was already filling up over an hour before the game which showed how excited Hawkeye fans were to be back. It was great energy and a really fun environment. I'm looking forward to getting back for another visit later in the season!"
Several of Iowa's commits soaked in the atmosphere.
"The atmosphere was unreal," Lansing (Kan.) High athlete Caden Crawford said. "I've been to a few college football games at a few different stadiums, but they were nothing like this. The crowd was electrifying whenever there was a big play. Hopefully it showed all the recruits what Iowa has to offer. The highlight for me was watching the players come out of the tunnel and hearing the crowd go crazy."
"It was amazing today!" Green Bay (Wis.) Bay Port linebacker Jayden Montgomery said. "Energy was off the charts! It was a great game to kick off the year with. Was great to be back in person to an Iowa game! My favorite parts of the day today were watching the warmups from the field and finally getting the chance to meet some of the other recruits and commits!"
"I was definitely blown away by the experience," Waunakee (Wis.) High offensive tackle Jack Dotzler said. "My highlights were definitely walking into the stadium and interacting with the best fans in the country. They were all so pumped and it was obvious that football means the world in Iowa City. Another highlight was the swarm and the wave. Both are unreal traditions that are so special and exciting for me because I grew up an Iowa fan. Obviously the game was exciting too! It was also really cool to watch the offensive line warm up before the game and see Coach Barnett in action."