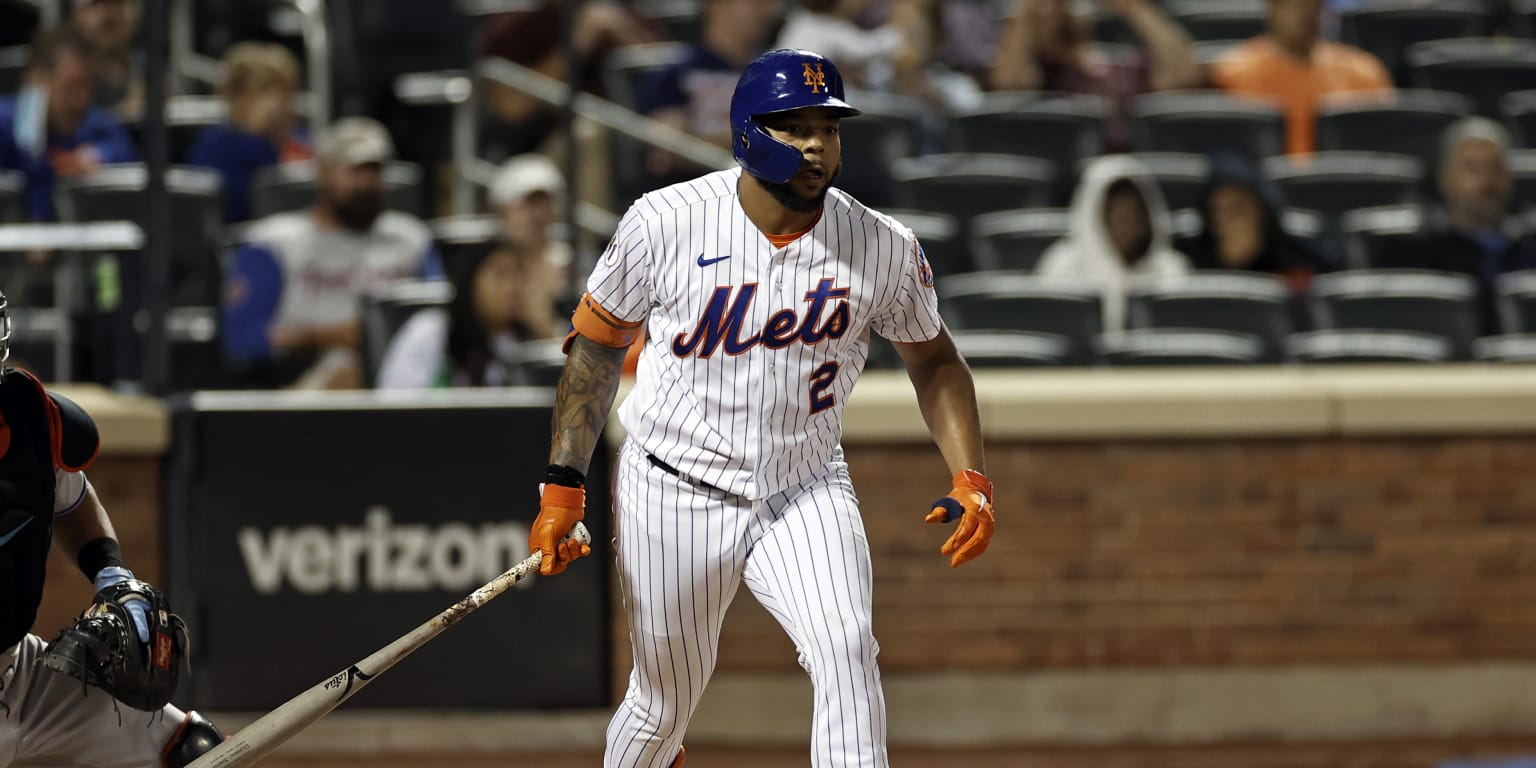 NEW YORK — Francisco Lindor's return from the injured list on Aug. 24 meant that someone else on the team was about to lose playing time. At first, it wasn't entirely clear whom. The trend that quickly emerged was a loss of reps for Dominic Smith, who was out of the Mets' starting lineup Thursday night at Citi Field for the fourth consecutive game.
That is how Smith found himself grabbing a bat in the seventh inning with the two men on base and the proceedings tied. Smith, who proved his mettle as a pinch-hitter years ago when he first broke into the Major Leagues, hadn't done nearly as much of that sort of thing in recent seasons. But he demonstrated quickly that he hasn't lost his touch, ripping a 104 mph single off first baseman Jesús Aguilar's glove to give the Mets the lead for good in a 4-3 win over the Marlins.
It was the Mets' fourth consecutive win, marking their longest streak since May. They remained five games back in the National League East after the first-place Braves beat the Rockies later Thursday.
"I am always trying to be ready, whether I'm starting or whether I'm coming off the bench," Smith said. "I know how good this team is, and I just want to be a part of this team winning. Whatever I can do to contribute, I'll be ready."
After Miguel Rojas and Jonathan Villar became the first pair of leadoff hitters to smash first-pitch homers in the same game since the Majors began counting pitches in 1988, the Mets and Marlins traded rallies to take a tie game to the seventh. That's when New York threatened on consecutive one-out singles by Jeff McNeil and Patrick Mazeika, bringing Smith to the plate in the pitcher's spot.
Smith, who has struggled against breaking balls all season despite establishing himself as one of the game's best offspeed hitters last year, received a steady diet of sliders from Marlins starter Sandy Alcantara. But the right-hander hung the fourth of them near the top of the strike zone and Smith pounced on it, pulling it sharply off Aguilar's glove to plate the go-ahead run.
"I was on the heater two pitches before, took a good slider and hit a hanging slider," Smith said. "That's just something I did when I was playing well. Just getting back to that, it felt good. It felt good not chasing a ball, and I went for a strike, and hitting it hard. That's something that I know I'm capable of doing, and it was fun to be able to do it tonight."
On the balance, Smith's season has looked nothing like his breakout 2020 campaign, which saw him punish breaking balls en route to a .316/.377/.616 slash line and 10 home runs in 199 plate appearances — numbers good enough to make him the Mets' best statistical hitter, and strong enough to prompt some to wonder if he might even be a better everyday first-base option than Pete Alonso. Without the benefit of a designated hitter, the Mets instead shifted Smith to left field, where he entered Thursday's play with the worst outs above average (-9) total of any National League left fielder.
Team officials would have found that more palatable had Smith been producing at the plate, but he was batting just .245/.306/.363 with 11 home runs in 461 plate appearances leading into Thursday, while battling a sore right wrist. So when it came time for the Mets to decide which player might cede playing time to Lindor, the Mets decided to shift McNeil to left field most nights, resulting in additional bench time for Smith.
With that new assignment came a request from team officials, who wanted Smith to use it to work on his plate approach — specifically on his lower-half balance, which was affecting his ability to hit offspeed pitches. To that end, Smith was as pleased at his ability to lay off Alcantara's 1-2 slider below the strike zone as he was to smash the right-hander's 2-2 pitch hard down the line.
It is that sort of sequence, Smith knows, that can allow him to become a consistent offensive producer once again.
"Dom's done that in the past, where he probably doesn't have the playing time starting a season, but he goes and works so when the chance comes in, he's going to deliver," Mets manager Luis Rojas said. "That's what we saw today."