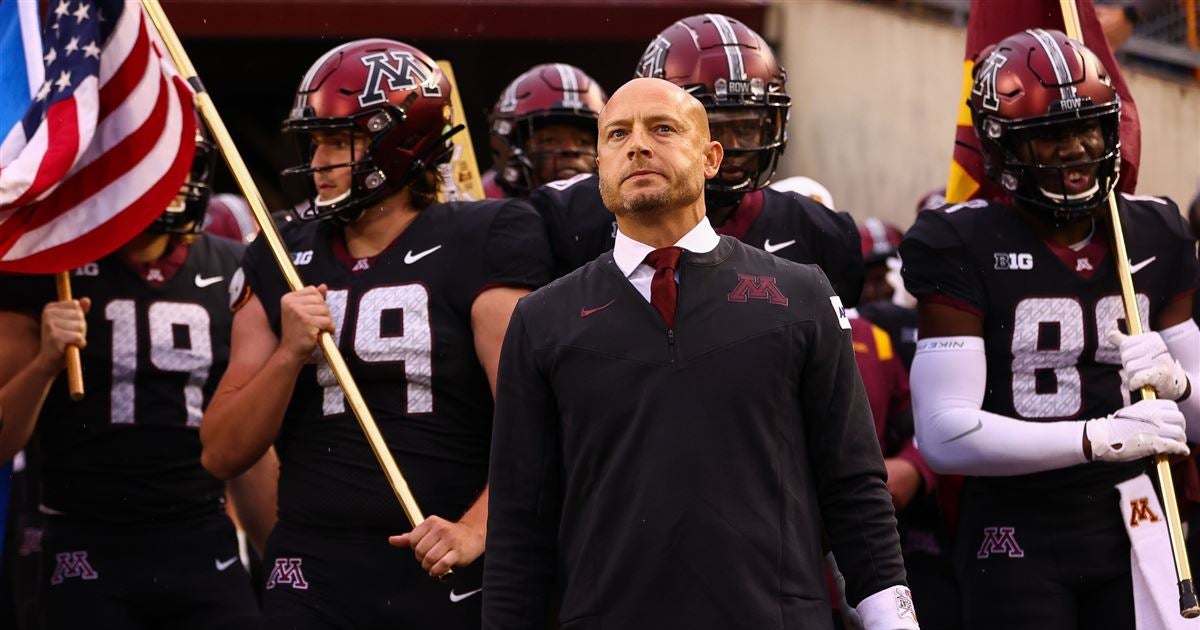 Here's what Minnesota coach PJ Fleck had to say about the Ohio State loss.
—
Opening statement from PJ Fleck
Fleck: I just want to thank everybody. I want to thank our student body. I want to thank our fans. I want to thank our administration for working so hard to sell that game out. I want to thank our community. The city has been through an awful lot. Our state's been through an awful lot in the last year and a half to two years.
That's the power of football. Results aside for one minute. That's the power of football. That is what the world should look like. Our locker room is what the world should look like. That atmosphere was special. And I just want to say thank you to our fans and thank you to our student body and to our band. Thank you for everybody involved in this and thank you to all of you for coming here and being here. It's just really good to have football back. We got to be better. We didn't play well enough to beat the number 4 in the country tonight. But we got a lot to learn from and we will."
—
Q. Ohio State had five touchdowns of 30+ yards, where do you feel the breakdowns were?
Fleck: That's what they do. They made you pick. And it's very difficult because their receivers get down the field very quickly. They got four of them that can role and they're very well coached. They ran the ball a little bit more effective than we wanted them to, because we felt that we could truly stop the run, and make them truly one dimensional, maybe we have a little bit better of a chance.
They were able to do it enough where it kept play action game open, and that's where we were a little exposed at times. It's unfortunate, but that's why they are who they are. And when they can run the ball, and then they can play action pass, they can roll down the field. Again, that's one of the better offenses I've ever coached against just because they're everywhere. They make you cover the entire field with first round draft picks everywhere. And it wasn't good enough today, but the standard is a standard, standard is to make sure that they don't score. And we did that first half, and we didn't do that well in the second half."
–
Q. Any update on Mohamed Ibrahim's status?
Fleck: No update right now. He's with our medical team right now, so whatever it is, we're going to Row as a football team.
I was just with him and he had a big smile on his face, but that's Mo. I think he's the best back in the country. Whatever his injury is, we'll figure it out and we'll Row. We'll make sure he's healthy when we bring him back. Hopefully it's nothing major, but we don't know that just yet."
—
Q. Without Chris Autman-Bell, how do you feel like the other pass-catchers stepped up?
Fleck: Chris was a game time decision and it's unfortunate he wasn't able to make it, so hopefully we'll have him back next week.
The medical team's done a great job with Chris. He's done a great job leading those wide receivers. Dylan (Wright) had five catches for 57 yards a touchdown. He made big time catches too. Those were contested catches. Daniel Jackson had some really good grabs, but again, we need to be a complete wide receiving core.
Brown-Stephens makes a few plays, and you look at what he was able to do. Brevyn Spann-Ford too.
They're (Ohio State) just really good. They're really good. But I think we have a good football team too. And I hope everybody saw that tonight. You'd like a few plays back, but you can't take plays back. We knew we were going to have to play pretty perfect to win that game, and we didn't."
—
Q. Do you think you'll be relying more on Potts, Wiley and Bryce while Mo is out?
Fleck: Well, we don't know how long Mo is going to be out. Hopefully it's not anything but we don't know. We're going to try to take one thing at a time, one day at a time and take all the information in, and then go from there. But I think Trey Potts is a tremendous tailback and you got a chance to see that too. Bryce Williams played a ton of football here and Cam Wiley has played a ton of football here.
Bucky Irving is a true freshmen and we have Ky Thomas too. We have a deep backfield. Maybe a little inexperienced, but there's only one way to get experience and that's to go and play."
—
Q. How would you like to see your defense create more pressure at the point of attack?
Fleck: It's way more complicated than that.
Because you're looking at how you can get beat, and then you're sitting there saying, "if we can beat this way, how can we counter that?"
If we would have brought a lot of pressure, that would expose us in a lot of areas. That would have made it, maybe even quicker at times. And we knew we had to come up with a certain game plan of what we needed to do, and again, we had to keep things in front of us. We were in the first half besides one huge play. We kept it in front of us. We didn't do that in the second half and you can see how fast that happened.
Two of the big plays were from blitzes that we ran. So, they're really good. I mean you saw them up front, and they spread you out all over the place. And it's not like they're lining up in 12 personnel and just running it down your throat. They're doing it from a spread, and making you cover the entire field. Hash to hash and sideline to sideline.
I would like to be able to see it in the future as we keep moving forward, us to be able to not have those explosive plays, period. However we can eliminate those explosive plays based on the personnel, we're going to play, that's what we want to be able to do. If you sit in Cover 2 all day, they're going to run from 9000 yards. So you can't do that either.
Now we have data. I didn't want those explosive plays to happen, and if I knew they were going to happen, I would have called something else."