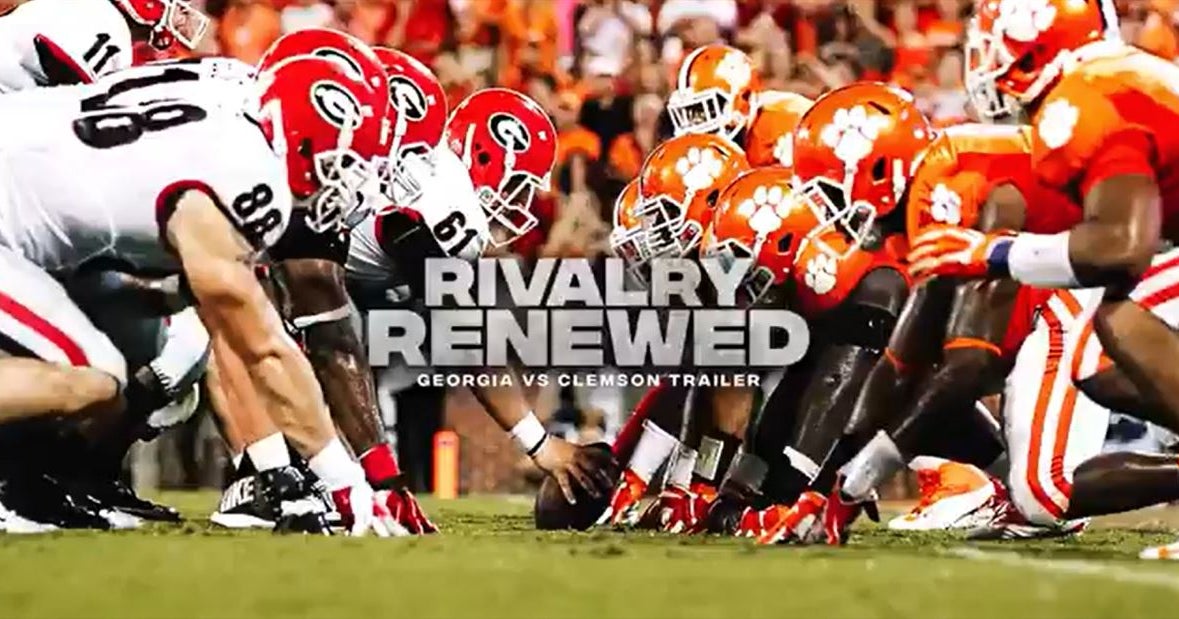 The No. 5 ranked Georgia Bulldogs take the field Saturday to face the No. 3 ranked Clemson in the 2021 season opener. On Thursday, the Bulldogs video team has released a video trailer for the conference matchup. This 59-second feature, titled 'Rivalry Renewed,' is narrated by Ernie Johnson and highlights preparations for the upcoming nighttime matchup.
Watch the game trailer below.
Georgia, ranked No. 5 in the USA Today Coaches' Poll and No. 5 in the Associated Press Top 25, is set to take on No. 3 Clemson in Charlotte in a neutral-site game. Kickoff is for 7:30 p.m. ET and it'll be televised by ABC.
Get the fastest scores, news, videos and more. Download the CBS Sports App and get the latest on your team today.

After Georgia went 11-1 for three straight seasons, made it to three straight SEC Championships, and reached one College Football Playoff National Championship, Georgia finished the 2020 season at 8-2 and won its fourth bowl game under fifth-year head coach Kirby Smart. It was Smart's second straight New Year's Six bowl victory and his 10th win over a top-10 opponent as a head coach. The Bulldogs are now 52-14 under fifth-year head coach Kirby Smart, with a 32-9 record in conference play.
To add to that, the Dawgs reeled in the nation's No. 4 class and added to the roster via the Transfer Portal. Georgia has recruited at an elite level the last four years, signing the nation's No. 1, No. 2, No. 1, and No. 4 classes per the 247Sports Team Class Rankings, giving them the No. 2 roster in college football according to the 247Sports Team Talent Composite.
"We are obviously excited about this game it seems like it has been a long time coming," Kirby Smart said earlier this week. "We have had a good camp in terms of working on ourselves. We moved onto Clemson last week, Wednesday or Thursday we started working on these guys. We got a chance to watch them in the summer and we got a chance to watch them in the spring. They are really talented, probably one of the best defenses I have ever seen returning in terms of number of starts and number of games played, the volume of experience is unmatched anywhere and anytime and I have been in college football a long time, just in terms of how much football those guys have played.
"Then you know their quarterback got some experience last year when Trevor (Lawrence) was down, he has one of the biggest arms I have ever seen, he is very talented, very hard to defend. It's like every play it's tough to defend when you play these guys, it's like there is no time to rest. Special teams wise they have always had good specialists and they continue to, that is a rich history tradition in that both teams have always had great specialists. I think special teams will play a big outcome in this game."
?????????????? ?????????????? | ???????? ?????? ??????????????

??? Voiced by @TurnerSportsEJ#GoDawgs pic.twitter.com/Jv5vcDdm9D

— Georgia Football (@GeorgiaFootball) September 2, 2021
Not a VIP subscriber to Dawgs247? Sign up now to get access to everything Rusty Mansell, Jake Rowe, and Kipp Adams have to offer on all things Georgia and access to the No. 1 site covering the Dawgs.
Sign up for FREE text alerts to get breaking news on commitments, decommitments, transfers, injuries, coaching changes, and more with our NEW text alert system available to all registered users and VIP subscribers. Click Here to become a FREE registered user and Click Here is you are already a VIP subscriber then follow these directions to set up your text alerts.
Want the latest news on Georgia delivered right to your email? Don't forget to sign up for our Dawgs247 Newsletter. It's free and a great way to get daily updates on Georgia football, basketball and more delivered straight to your inbox. You can now also sign up to get breaking news text alerts from 247Sports by signing up here. Like us on Facebook. Follow us on Twitter.